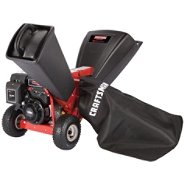 HOW MUCH WOOD WOULD A WOOD CHIPPER CHIP? – As you clean up your yard to get ready for the approaching winter months, you probably don't want to see any more of those paper yard waste bags, or even worse, plastic trash bags that seem to rip every time you use them. Especially if your area doesn't have a curbside yard waste collection program, getting rid of your debris is a pain. This fall, consider investing in a wood chipper to take care of your yard waste right at your home.
What Wood Chippers Do
Although they're all designed a little bit differently, the main function of wood chippers is to take pieces of wood, like small fallen branches, and cut them into wood chips. Depending on the type of machine you get, it may accept branches anywhere from the size of twigs to one, two or three inches in diameter, or more with a professional machine. Some wood chippers also work as leaf shredders, taking all those dried leaves and breaking them into small pieces perfect for adding to your compost pile.
Benefits of Wood Chippers
The main benefit of a wood chipper is that it allows you to more easily take care of debris in your yard without having to bag it. You can then turn around and use the wood chips as mulch in your yard, or even give them to friends and family if you don't need the mulch. This process saves you from having to bag debris and buy mulch, and it's perfectly timed because you need mulch right when you're cleaning up branches in your yard.
Wood chippers that shred leaves well produce finely shredded leaves that you can add to your compost pile. They'll break down over the winter so you can recycle them back into your soil in the spring before you plant. Even if you don't have a compost pile yet, just put leaves and grass clippings in and turn it every week or two, and you should have rich compost by the time spring rolls around.
Make Safety a Top Priority
Wood chippers have several safety features built in, but you also need to educate yourself about safe operation to prevent injuries. The blades inside are very sharp and could cause serious injury. Before operating the machine, read the manual to learn how to turn it off and whether there's any emergency shut-off switches. Some commercial wood chippers automatically shut off when there's a lot of weight on the loading deck, but home-grade wood chippers may not have this sophisticated technology.
Here are some other ways to keep yourself safe when operating wood chippers:
 Wear safety goggles, long pants, a long-sleeved shirt, work gloves and steel-toed boots to protect yourself from chips of wood that may come flying back at you. If possible, stand to the side while loading the machine.
 Wear ear plugs to protect yourself from damage to your hearing.
 Always feed the largest end of the branch into the machine first.
 Push wood farther into the chute with another piece of wood, not your hands.
 Turn off the machine before attempting to dislodge any jams.
Once you start using a wood chipper for your yard work, you'll wonder how you ever got by without one. They make quick work of lots of yard waste, and you'll save a lot of money on mulch and compost because you'll be able to make your own. You may even have neighbors who want to use it, but make sure they follow the safety precautions too!